Destinations
Namibia safari trips
Namibia is the land of a thousand landscapes. From the famous dunes of Swakopmund to the the beautiful
ocean views along the Skeleton coast, if you're looking for adventure – this is the place.

Currency
NAD (Namibian Dollar) & ZAR

Namibia highlights
Namibia offers you an alternative safari destination, boasting harsh landscapes and intriguing wildlife that has adjusted to its desolate environment. With the opportunity to see all of the Big 5 and explore one of Africa's oldest deserts, Namibia offers up unforgettable wilderness adventures.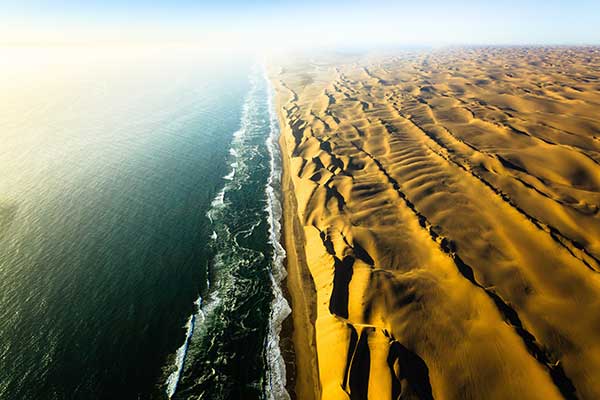 The Skeleton Coast
The Skeleton Coast was named after hundreds of shipwrecks washed up on the Namibian shores between Swakopmund and the Angolan border. This is where desert meets ocean, creating a landscape that Namibia has become famous for through the years.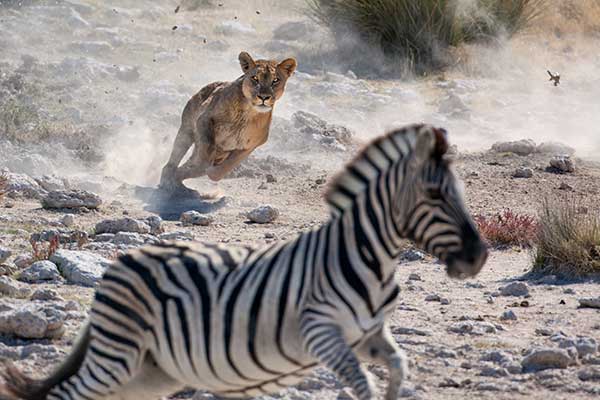 Etosha National Park
Etosha National Park has a large range of wildlife on offer, where bustling waterholes are crowded with big game animals and predators are present in abundance. The National Park is a wildlife sanctuary, hosting over 250 species of birds as well as numerous other incredible game, including gemsbok, springbok and black-backed jackals.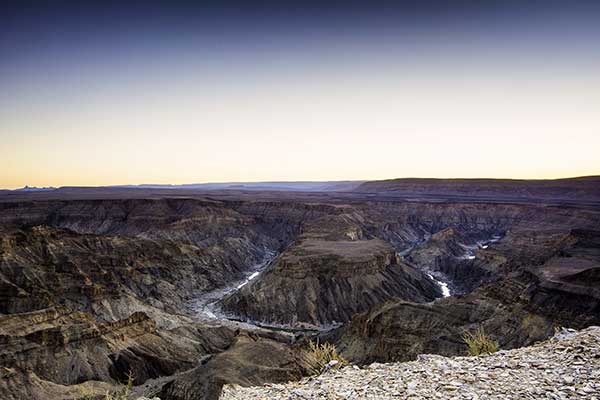 Fish River Canyon
This expansive canyon plays host to many of our favourite adventure activities in Namibia. From hiking through the canyon to sleeping on the edge of the canyon, this is one of the most impressive and challenging spots you can experience in African travel.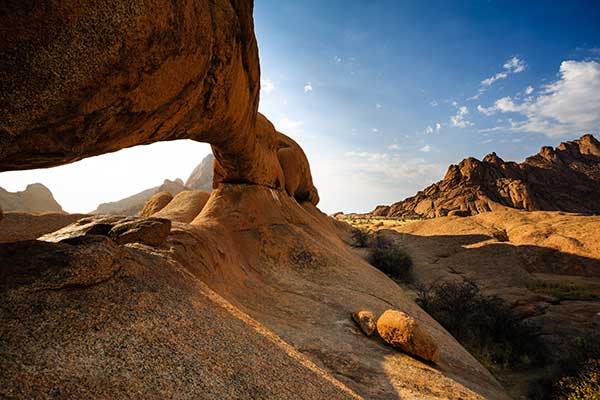 Damaraland
Damaraland will bring out the historian in you, with scenery cut from dramatic rock formations. Evenings can be spent under the stars, while days are fueled by tours through ancient outdoor art galleries. The area is a UNESCO World Heritage Site, with up to 5,000 carvings and paintings dating back thousands of years.
What type of wildlife will we see?
There is an abundance of big game animals in Namibia. Expect to see giraffe, zebra and wildebeest amongst the savannah plains. Sightings of predators, including cheetah and hyena, have also been recorded, while wild dog are present but rarely seen. There is a great population of seals off the coast, with shark, dolphin and whale encounters reported on a regular basis.
Best time to go and why?
You will experience the best wildlife encounters during the dry season between June and October. Animals are often seen congregating around water sources amidst the sparse vegetation.
When is high season?
The dry season between June and October is considered to be the busiest time of the year.
When is low season?
Parks are generally very quiet during the wet season from December to April. The vegetation is dense and beautifully green at this time of year.
When is the best weather?
The best weather for a visit to Namibia is between April and May. There is very little rainfall, with picturesque green scenery beginning to thin out but the parks are still relatively empty and the temperatures are moderate.
Namibia safari inspiration