Experiences
Luxury Boat Safaris
Experience Africa aboard floating luxury.
Africa is home to some of the most impressive and extensive rivers in the world, including the famous Zambezi and Nile rivers. The scenery that surrounds these bodies of water, and the fauna and flora that call them home, are nothing short of awe-inspiring. It comes as no surprise that embarking on a luxury boat safari is one of the most unique and truly immersive ways to experience these vast waterways and ecosystems.
Opposed to most African safaris, boat safaris provide one of the best vantage points for spotting wildlife. It is also a more gentle experience compared to traveling along hot, jarring roads. Expect a cool breeze coming off the water as you gently float through some of the most breathtaking scenery on Earth, immersing yourself in your surroundings and leaving no footprint behind… literally.
Perhaps the greatest perk of a luxury boat safari is being far away from any big crowds and minimal noise pollution, allowing for some extraordinary wildlife viewing.
Are you ready?
Our top recommended luxury boat safaris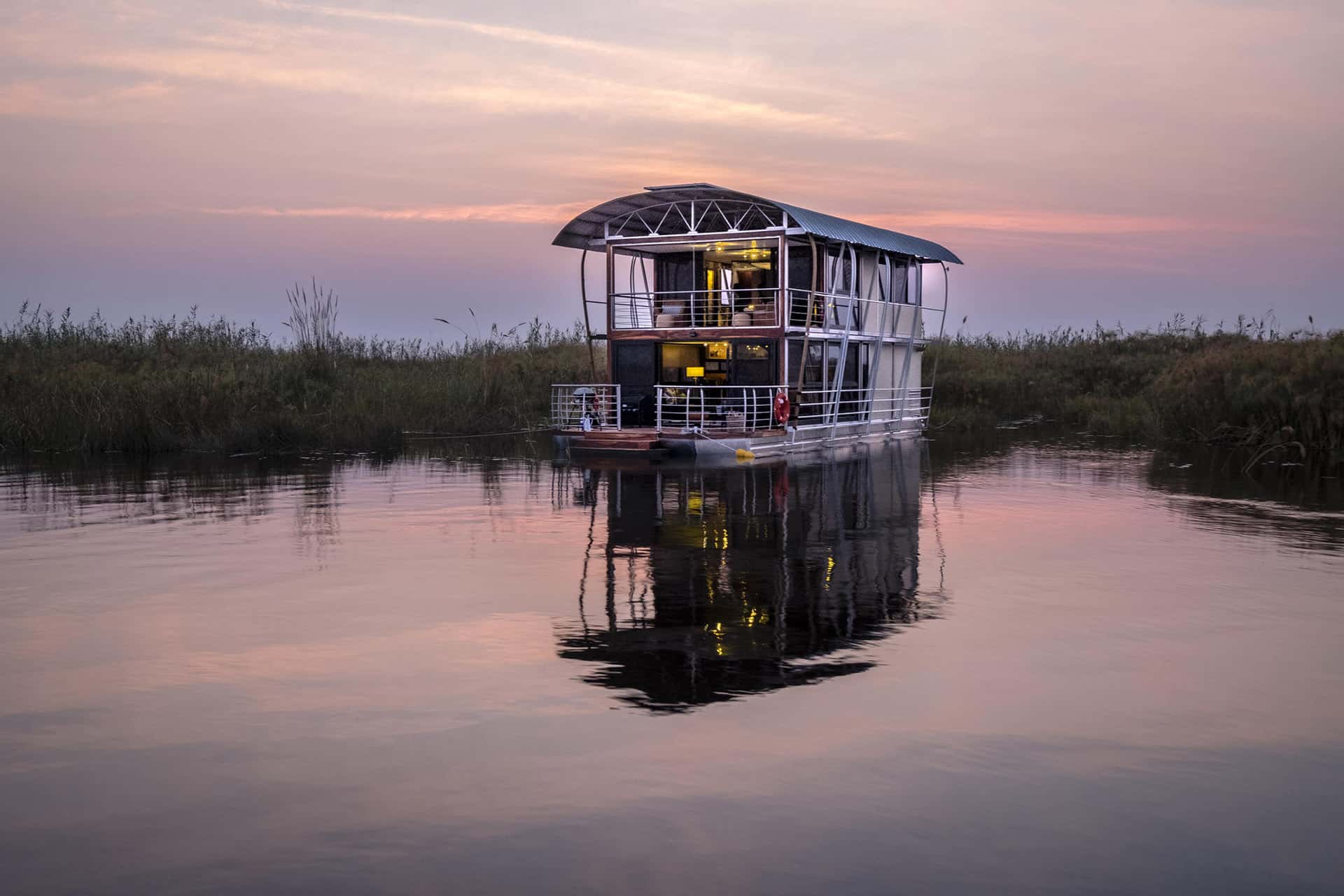 Namushasha River Villa, Namibia
The Namushasha River Villa is located in Kongola, Namibia. Part of the Gondwana Collection, this floating oasis is anchored in its very own, private channel of the Kwando River. Such an incredible setting allows guests to experience the Bwabwata National Park in all its glory. The Villa caters for two people, and is ideal for an ultra-romantic couple's retreat. The Namushasha River Villa invites guests to indulge in a relaxing boat cruise coupled with world class wildlife sightings, gourmet meals, and the very best of luxurious offerings.
Okavango Spirit, Botswana
Moored on the placid waters of the Okavango River in northern Botswana, the Okavango Spirit is an elegant, newly renovated luxury houseboat that comprises eight en-suite cabins and boasts spacious decks offering exquisite views of the Delta and its wildlife. The houseboat operates in the panhandle of the Delta, a region recognized as being amongst the quietest and most peaceful due to its remoteness, making it ideal for the discerning guest seeking utmost exclusivity. This extraordinary houseboat really does embody the spirit of the Okavango and can be accessed by a direct flight from Maun.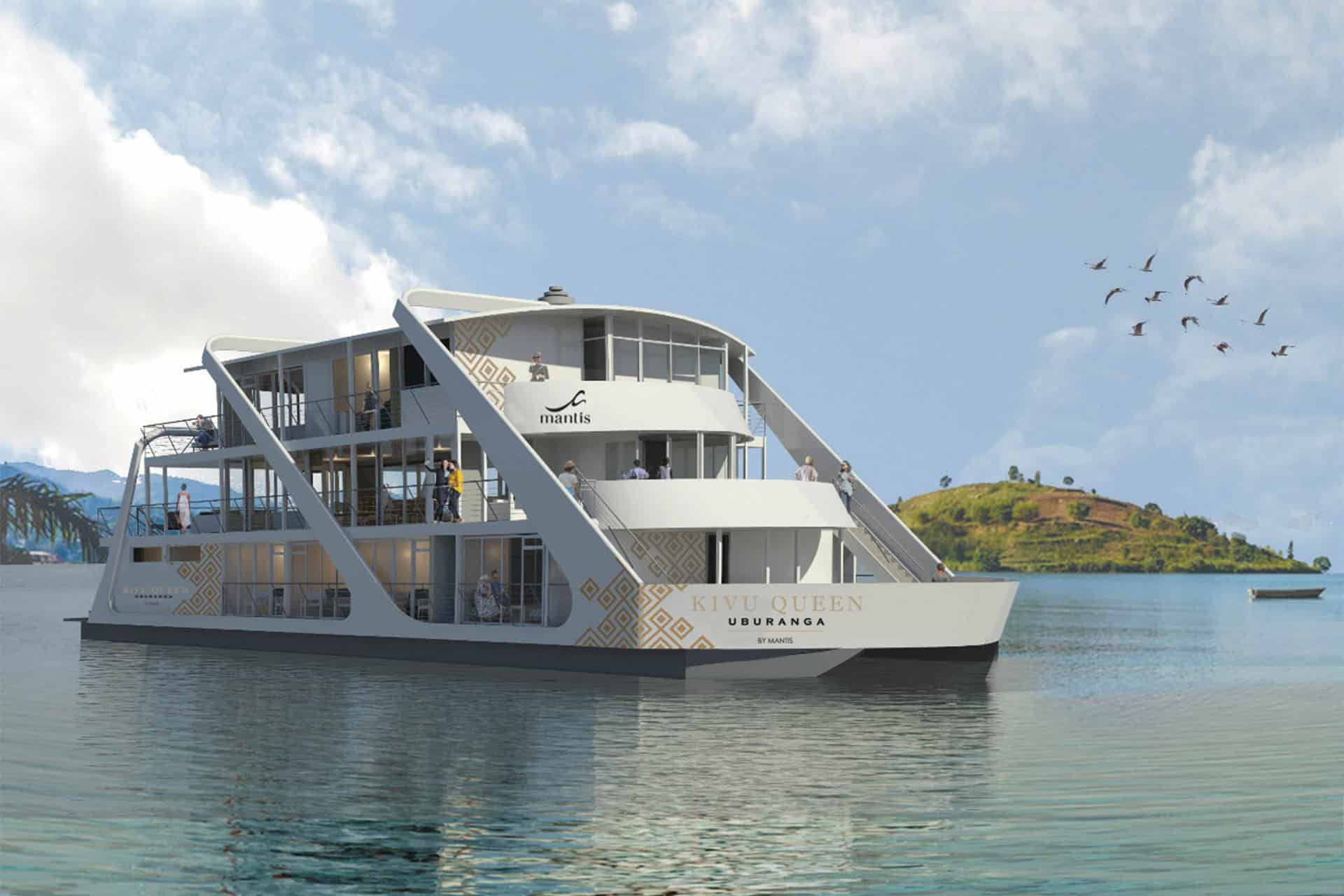 Mantis Kivu Queen uBuranga, Rwanda
The Mantis Kivu Queen uBuranga is a luxurious floating hotel that cruises along the 90km-long Lake Kivu in Rwanda – one of Africa's greatest lakes. Situated along Africa's Great Rift Valley, it is lined with charming fishing villages and boasts crystal clear waters. Equipped with a swimming pool, bar, restaurant, hot tub, viewing deck and ten contemporary cabins, this bespoke boat experience will take you on a luxury journey like no other in the mild equatorial climate of Rwanda.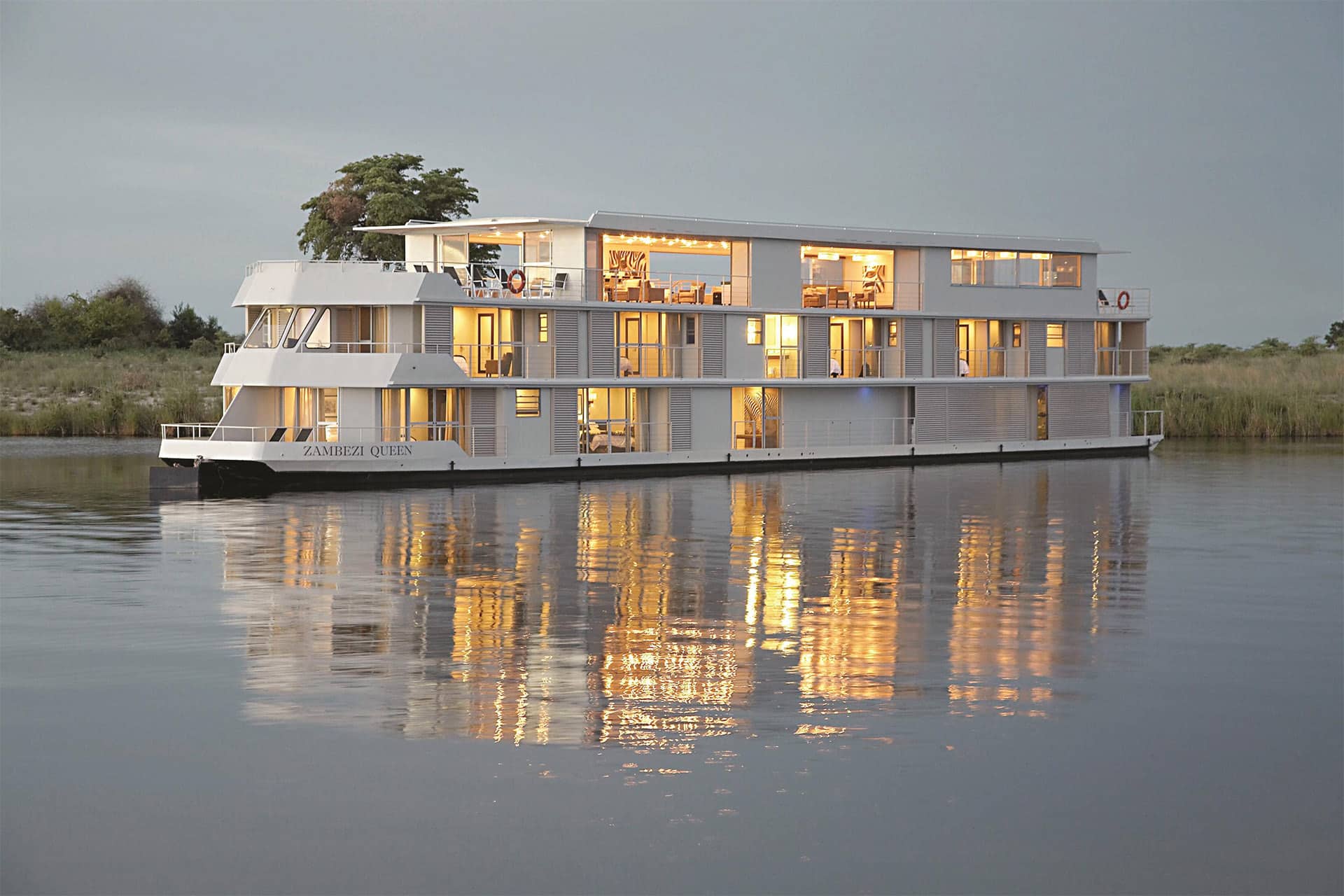 Zambezi Queen, Botswana
The Zambezi Queen provides luxury accommodation in the form of 14 deluxe suites, ten standard suites and four spacious master suites, all fitted with outer decks so that you can take in the refreshing Chobe River breeze and appreciate endless views of the unique African scenery beyond. A stay onboard this gem is a different kind of safari experience. Don't think of it as a river cruise, instead think of it as a floating bespoke hotel navigating through roughly 25km of the Chobe River, where some of Africa's most incredible wildlife abounds.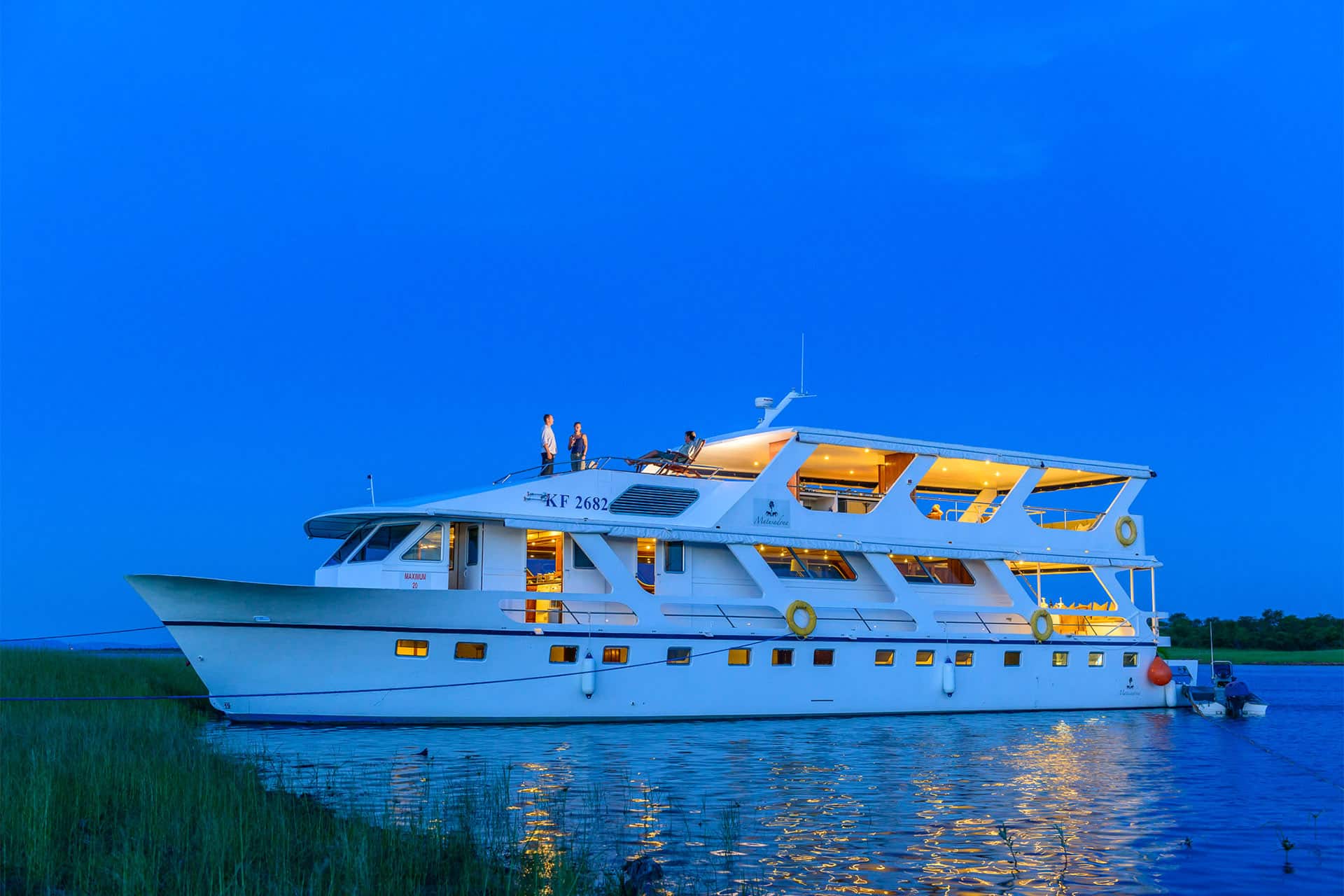 MV Matusadona, Zimbabwe
The MV Matusadona is the most luxurious houseboat on Zimbabwe's iconic Lake Kariba. Renowned for its tiger fishing, wildlife viewing and spectacular sunsets, Lake Kariba is surrounded by the Matusadona National park. Cruising along the shores of one of Africa's last true remaining wilderness areas is an experience of a lifetime. The MV Matusadona is fully equipped, comfortably accommodates up to six guests and carries four dedicated crew members – making it ideal for intimate group and family getaways.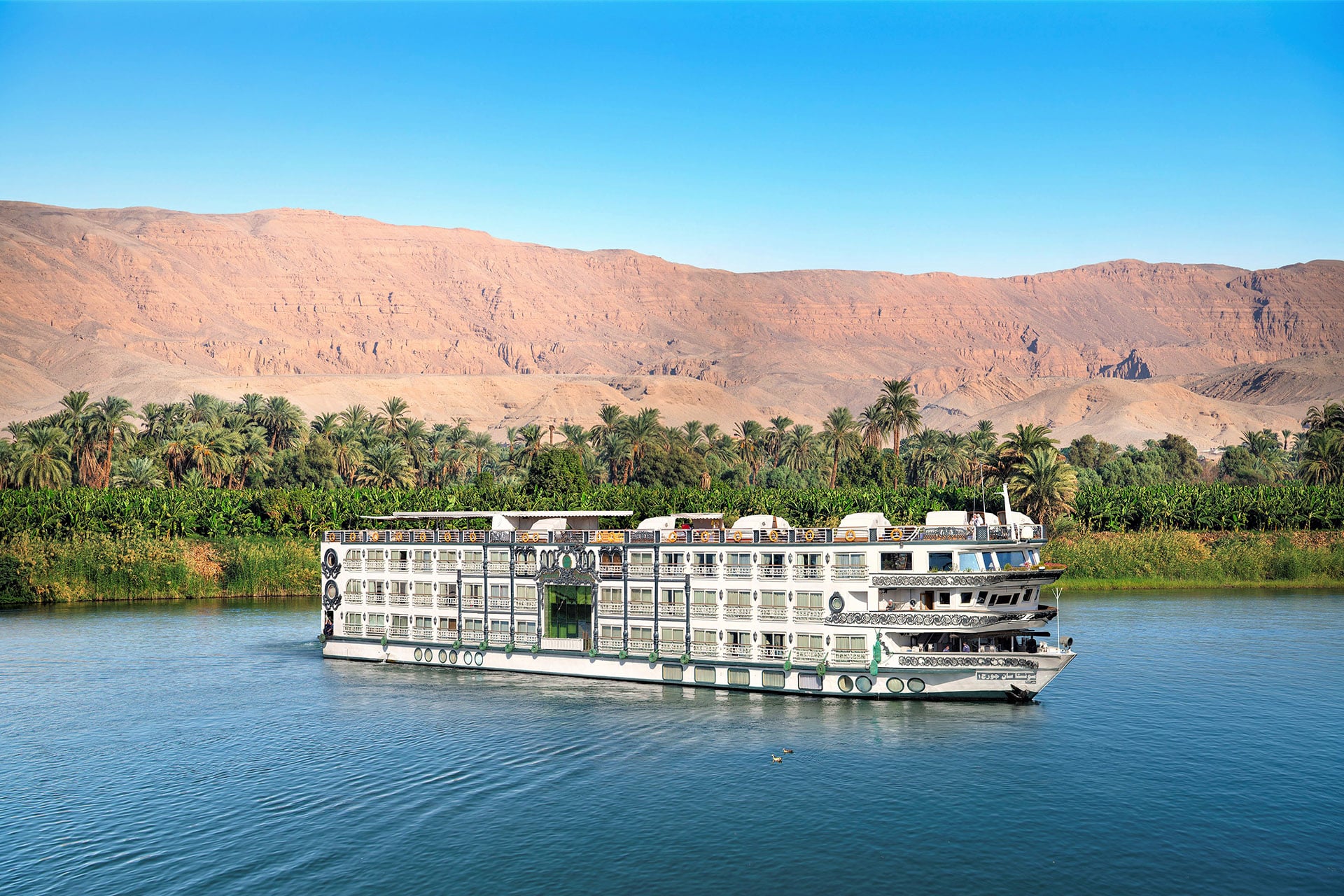 HS Sun Goddess, Egypt
A stay on the HS Sun Goddess is an authentic Nile River adventure. Embarking on a cruise down this historic river is a quintessential part of any trip to Egypt and few vessels do it quite like this luxurious, all-suite cruise ship. The HS Sun Goddess is the perfect way to experience the region between Aswan and Luxor, where you can soak in the scenery from the waterways. The ship features 30 luxury suites, including a spacious Executive Suite and Royal Suite with a jacuzzi. Each has its own private terrace with extensive views of the Nile riverbanks and skyline.
Contact us, we are here every step of the way!
See a luxury boat experience you like? The safaris showcased on our website are just a taste of what your unique African experience could look like. Tell us what you liked and we will craft a one-of-a-kind luxury boat safari, just for you!