Destinations
Rwanda gorilla trekking safaris
The 3 major national parks of Rwanda offer up an incredible diversity of potential wildlife encounters,
from the big game on safari to the 13 species of primates in the forests.

Currency
RWF (Rwandan Franc)
Language
French, English, Kinyarwanda

Rwanda highlights
Rwanda is a country of ever-changing landscapes ranging from rocky mountains, to dense green rainforests and expansive savannah plains. Such biodiversity brings a unique and varied spectrum of wildlife experiences to all those that dare to venture into the remote regions of Africa. Famous for primate trekking and jaw dropping landscapes, countless hiking trails and the incredible Lake Kivu, Rwanda is not to be missed.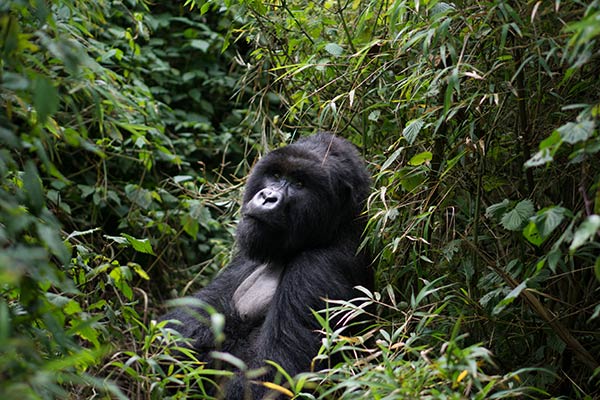 Gorilla Trekking
Rwanda's Gorilla Trekking is a unique and impactful experience, with both Mountain Gorillas and Chimpanzees resident to Volcanoes National Park you're able to encounter 2 of the Great Apes in one trip. Due to the slightly easier navigated landscape than Uganda, treks to find one of the seven gorilla groups in Rwanda appeal to a wider age and fitness range.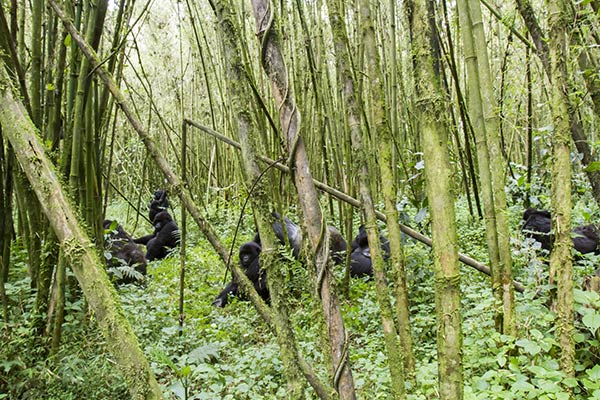 Volcanoes National Park
This is the most famous National Park in Rwanda, and for good reason. The park runs along the border of the Congo and Uganda, and is home to Mountain Gorillas, Chimpanzees and Golden Monkeys. The dense jungle, incredible valleys and intense wildlife encounters make this one of our favourite parks in the world.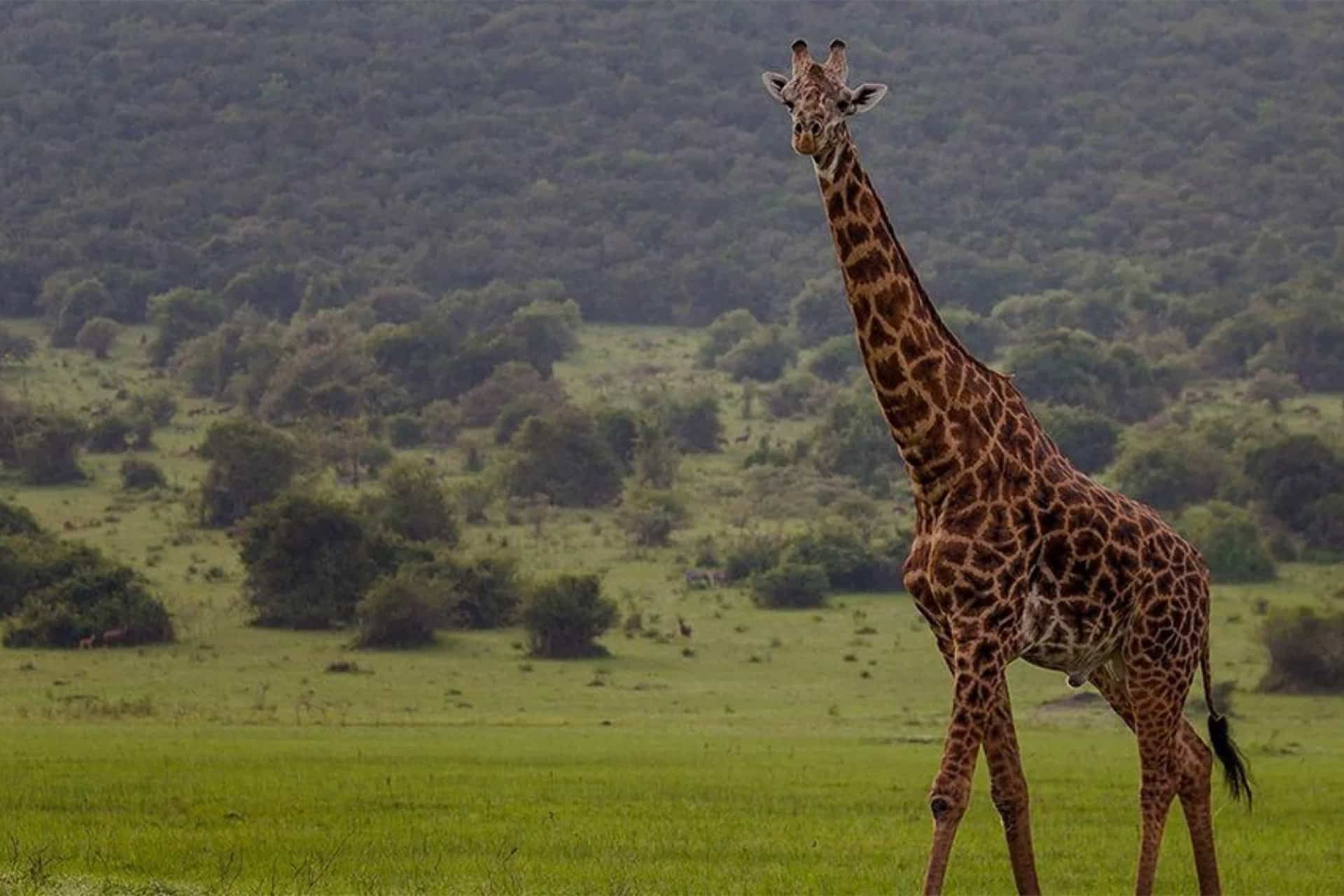 Akagera National Park
The Akagera National Park is one of central Africa's last-remaining refuges for endemic savannah wildlife in Rwanda and the largest protected wetland in the region.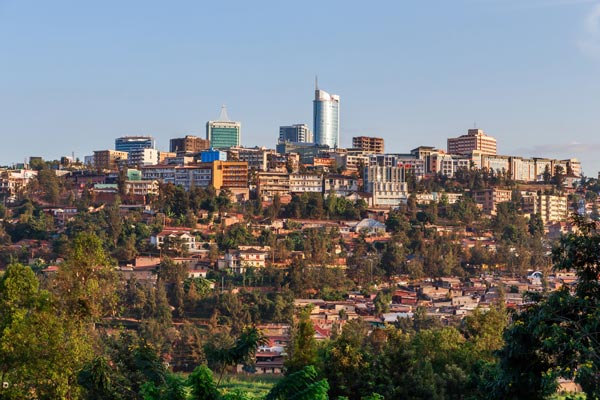 Kigali
Known to many as Africa's cleanest city, Kigali is more than just a gateway to the famous Gorilla Trekking experiences in Rwanda, it is very much an experience of it's own. When our guests travel they do so to connect the history, people and culture of a destination – Kigali is where you'll be able to accomplish that end with ease.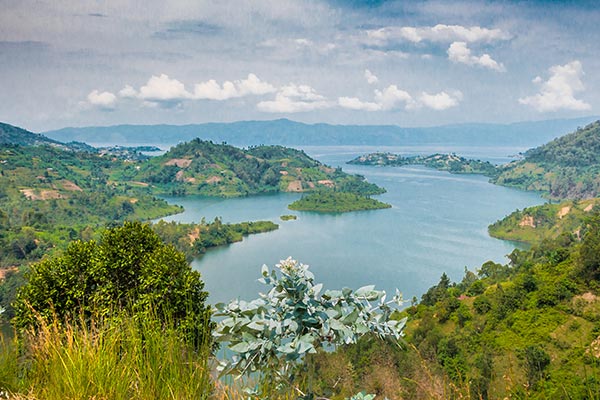 Lake Kivu
One of Africa's Great Lakes, Lake Kivu is a sight to see. This 90km long, 50km wide lake lies across the Rwanda and DRC border and offers visitors the opportunity to pull a kayak into the water or board a boat and experience Rwanda from a completely different perspective.
What type of wildlife will we see?
The 3 major national parks in Rwanda present you with the rare opportunity to encounter a great diversity of wildlife. Akagera is home to a wide variety of big plain animals, including zebra, giraffe and an assortment of antelope. Hippo can be spotted in the rivers, while hyena are also prevalent. You stand the chance to see 13 species of primates such as chimpanzees and colobus monkeys in the Nyungwe Forest. The highlight of your trip will undoubtedly be the trek through Volcanoes National Park to see a family of mountain gorillas.
When is the best time to go to Rwanda?
The dry seasons from December to February and June to September offer you the best conditions for gorilla trekking.
When is high season in Rwanda?
As a result of the ideal conditions for gorilla trekking, the dry months between December and February as well as June to September experience the most visitors.
When is low season in Rwanda?
The low season occurs during the wet months between March and May as well as November. You will experience mild temperatures with great opportunities for chimpanzee trekking.
When is Rwanda's best weather?
The weather is generally temperate throughout the year in Rwanda, as a result of its location on the equator. The best weather for gorilla trekking is during the dry season from December to February and June to October.