Experiences
Luxury Train Safaris
"*" indicates required fields
"*" indicates required fields
Experience Africa aboard a luxury traveling hotel
Trains remind us of a bygone era of travel, of adventures full of nostalgia, elegant comforts and old-world radiance. Luxury train travel in Africa, in particular, is more than just transport, it is a journey through ever-changing majestic landscapes, experienced in total comfort and style.
In an age where mobile devices dominate every aspect of our lives, there's no better way to disconnect, unwind and rediscover an antique era of chic travel than aboard a classic luxury train. What's more, opulent train journeys are less stressful than flying. There's no bag drop, security checks or long waits in departure areas.
With exquisite service, gourmet cuisine and like-minded travelers adding to an already sophisticated atmosphere, luxury train travel in Africa promises a unique, gracious and absolutely captivating experience.
Are you ready?
Our top recommended luxury train safaris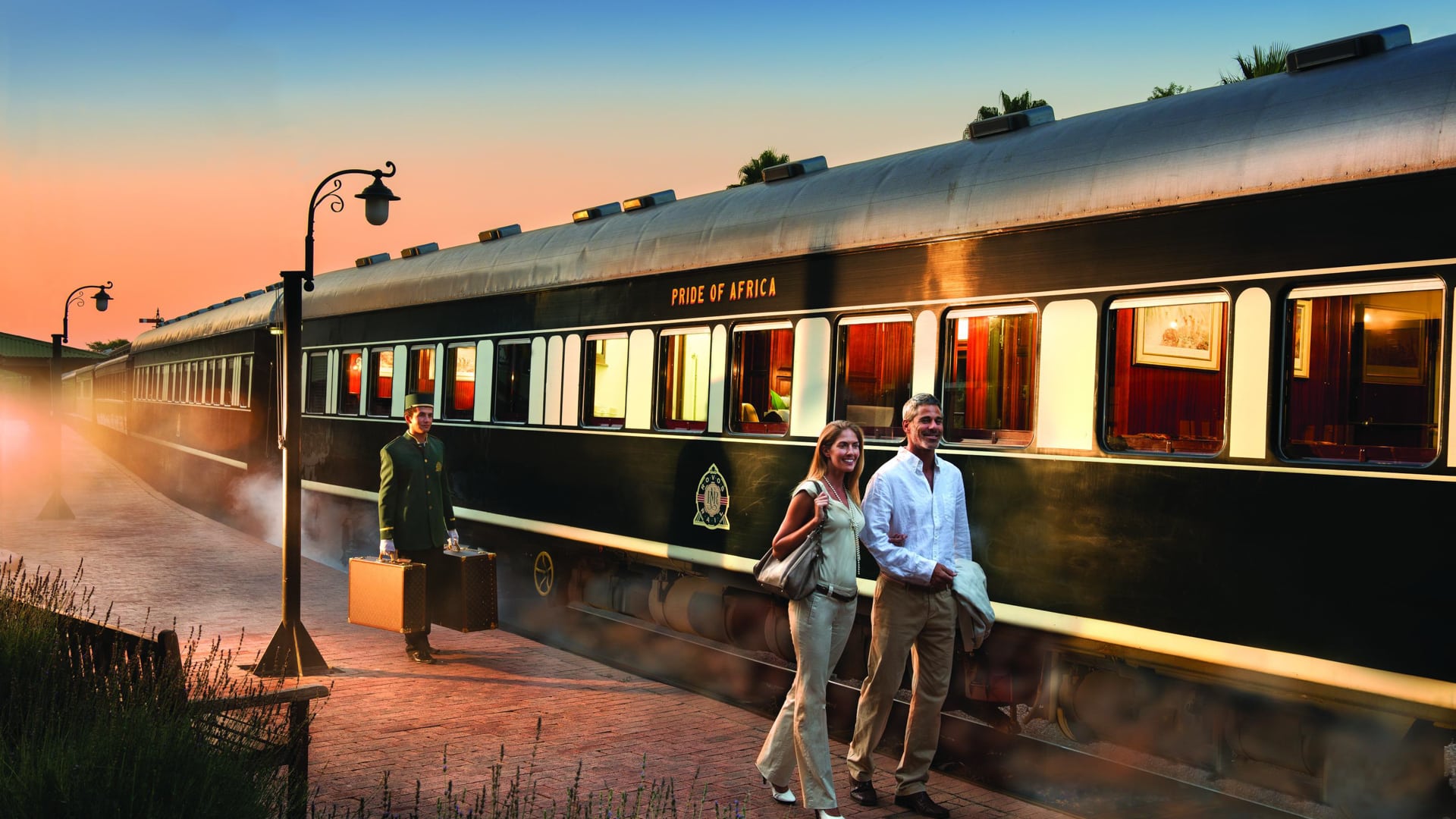 Rovos Rail
Internationally renowned and famous for its cultivated beauty, the brilliance of the Rovos Rail typifies opulent train travel in Africa at its finest. Rovos Rail's world class train safaris blend some of the continent's most spectacular scenery with travel aboard an authentically refurbished Edwardian-style train. Vintage carriages and elegant lounges finished with glistening wood-paneling and wingback chairs are but a few features that stand out.
The Rovos Rail experience accentuates indulging in the journey rather than hastening to the destination. The trains smoothly travel along at no more than 40 miles per hour, affording guests the opportunity to take in the surroundings, observe wildlife and take photographs. Guests will also enjoy a sumptuous dining experience with remarkable cuisine in a cordial pre-1940s atmosphere. Peace and tranquility is guaranteed with the absence of televisions, and the use of electronic devices is limited to the privacy of guests' suites only.
Nine scheduled journeys begin or end at the private Rovos Rail Station situated in Pretoria, of which, the route between Pretoria and Cape Town is the most popular. Other multi-day itineraries are as diverse as the trains are glamorous and travel as far as the Benguela Province in Angola and Dar es Salaam in Tanzania. Another outstanding option is the three or four-night journey to Victoria Falls in Zimbabwe, passing through the game rich Hwange National Park. Calm and nonchalant, these luxury railway adventures embody the timeless grace and high romance of African exploration.
Royal Livingstone Express, Zambia
The Royal Livingstone Express steam locomotive fuses the exceptional fine dining and exquisite service of the Royal Livingstone Hotel by Anantara in Zambia with the grace of the Victorian era. Guests are invited to relive a sophisticated journey of the 1920s and savor a moveable feast alongside a classic steam adventure. A journey on this authentic, luxury train is a truly classical experience of vintage travel, providing guests with an opportunity to take in a slice of history against the backdrop of the world famous Victoria Falls.
The five train carriages, in the form of tenderly restored Pullman-style coaches, are made up of two dining cars, a kitchen car, lounge car and an observation car and can accommodate up to 92 guests. Perhaps the highlight of the experience is the immaculate five-course dinner, accompanied with wines, beers and soft drinks, served by Anantara's gifted chefs, while the locomotive meanders through Zambia's dazzling landscapes.
The Royal Livingstone Express offers two different but equally breathtaking routes. The Victoria Falls Bridge Run travels along the Cape to Cairo main line and into the Victoria Falls World Heritage Site, where wildlife such as elephants and various antelope species may be spotted on route to the border post. The train then stops between Zambia and Zimbabwe on the Victoria Falls Bridge, where guests can disembark to indulge in the sunset alongside the world's largest waterfall. This distinct location directly above the Zambezi River is the perfect spot for magnificent photo opportunities. The Mulobezi Line Run journeys through the heart of the Zambezi River Valley along the Mulobezi Line. The route runs parallel to the Zambezi River and through the Mosi-Oa-Tunya National Park before the return journey to Livingstone.
Explore more luxury safari trips
Contact us, we are here every step of the way for any train travel itinerary
See something you like? The luxury safaris showcased on our website are just a taste of what your unique African experience could look like. Tell us what you liked and we will craft a one-of-a-kind luxury safari, just for you!