Experiences
Horseback Safaris in Africa
See Africa's wild spaces on horseback
Exploring Africa's uncharted territory on a horseback safari is by far the most exhilarating way to go. This all-encompassing safari experience sees rider and horse become one with the landscape, no longer an observer but a participant. It is a safari experience without an engine and allows for truly intimate encounters with the wildlife. 
A safari on horseback is undoubtedly a more green way to experience Africa's wild spaces. A multiple-day safari is typically combined with a mobile fly camp which is set up temporarily and leaves no footprint behind. The unique experience of sleeping under the stars with your faithful four-legged companion and saddling up in the morning is the ultimate safari adventure. 
Horseback safaris in Africa are becoming increasingly popular and can be tailored for riders of all calibers – from beginners to expert equestrians. Offered in most regions in Africa, a safari on horseback is a once-in-a-lifetime, unforgettable and enriching experience.
Top Recommended Horseback Safari Destinations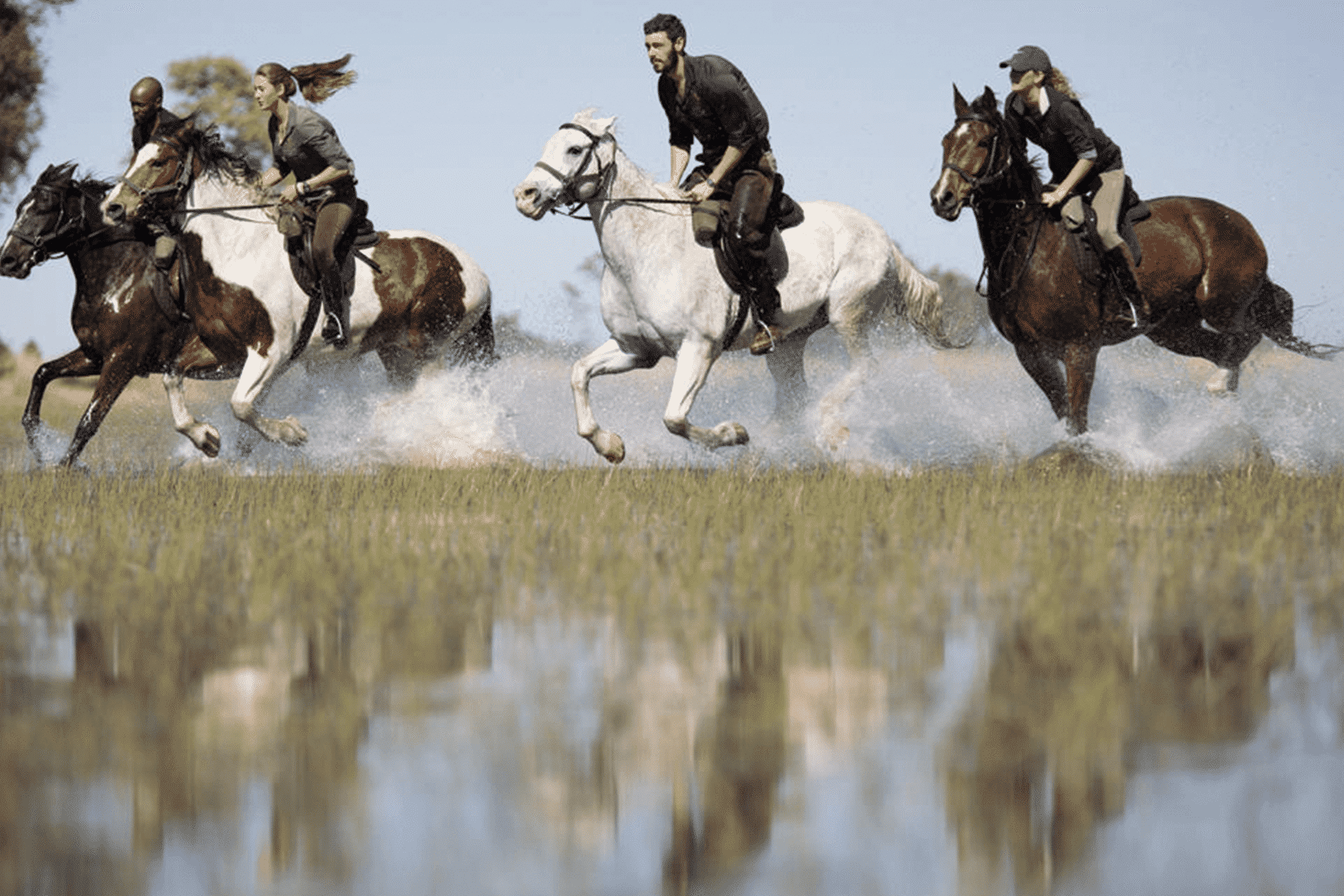 Horseback safaris in Okavango Delta, Botswana
Deemed one of the 7 Natural Wonders of Africa, the seasonal river channels and landscapes of the Okavango Delta act as a haven for wildlife. This unique setting is a favorite with riders who flock to the delta during the flood months to canter through the shallow waters. Here they have the opportunity to get up close and personal with Africa's famed Big Five and a whole host of other creatures. We recommend staying at Belmond Eagle Island Lodge to experience a horseback safari in the Delta.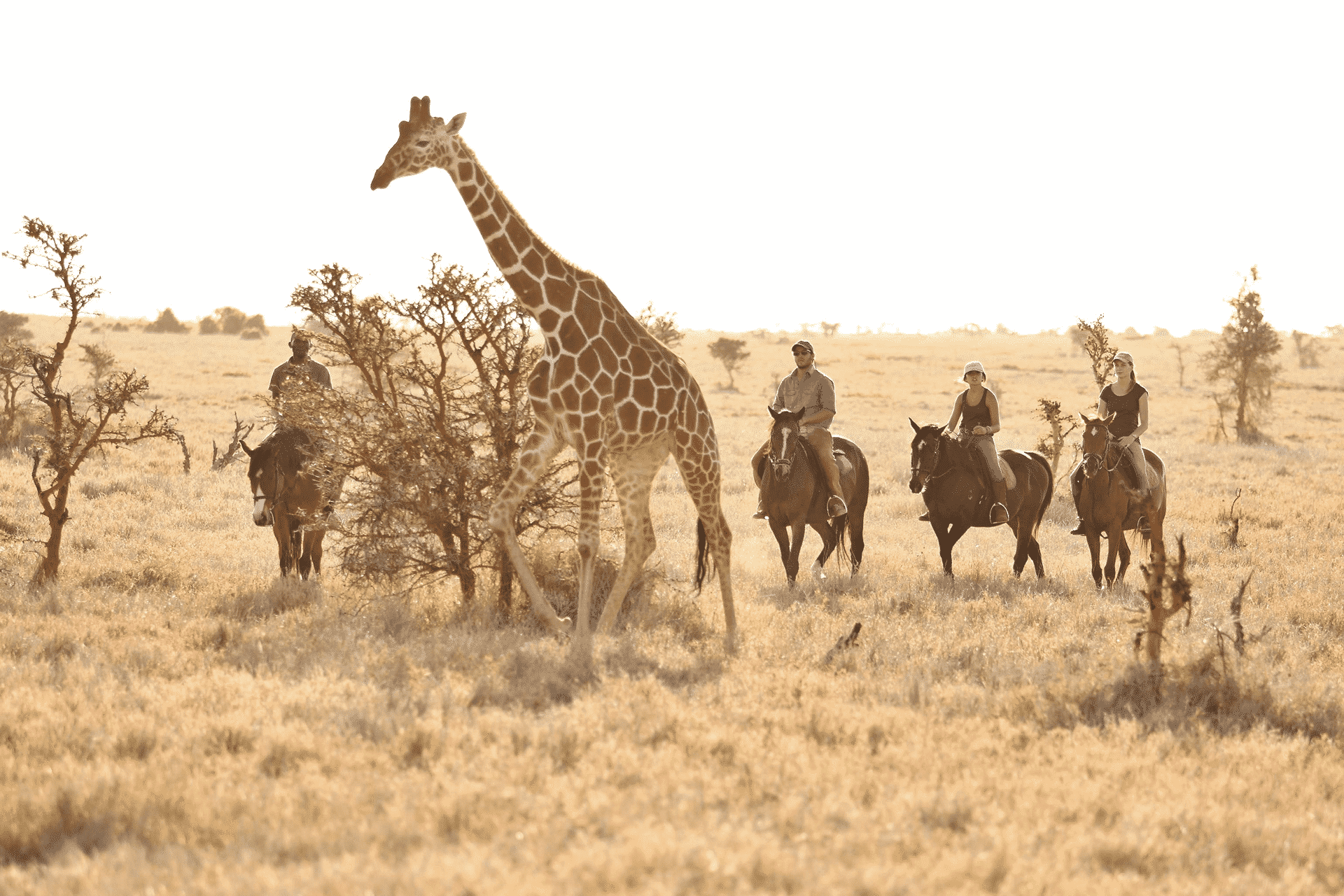 Horseback safaris in Laikipia, Kenya
Kenya is the birthplace of the horseback safari with some of the continent's most epic regions for riding. The Laikipia Plateau is a less explored destination and home to some of Africa's most iconic scenery. Lion and leopard sightings are common, as are elephant, buffalo, giraffe and hippo. Laikipia is also known for its growing population of African wild dogs, and if you're lucky, you may even get to ride alongside a pack of these fascinating creatures. We recommend staying at Lewa Wilderness Lodge to experience a horseback safari in Laikipia.
Horseback safaris in Makgadikgadi Salt Plans, Botswana
The lunar-like landscape of the Makgadikgadi Salt Pans in Botswana delivers a riding experience like no other. If you're looking for thrills, you've come to the right place. There is nothing quite like the feeling of speeding along one of the largest salt pans on Earth, hearing the ground crunch under galloping hooves and taking in the seemingly endless horizons. The sunsets and star-studded skies are the cherry on top of this life-changing experience. We recommend staying at San Camp to experience a horseback safari in Makgadikgadi Salt Plans.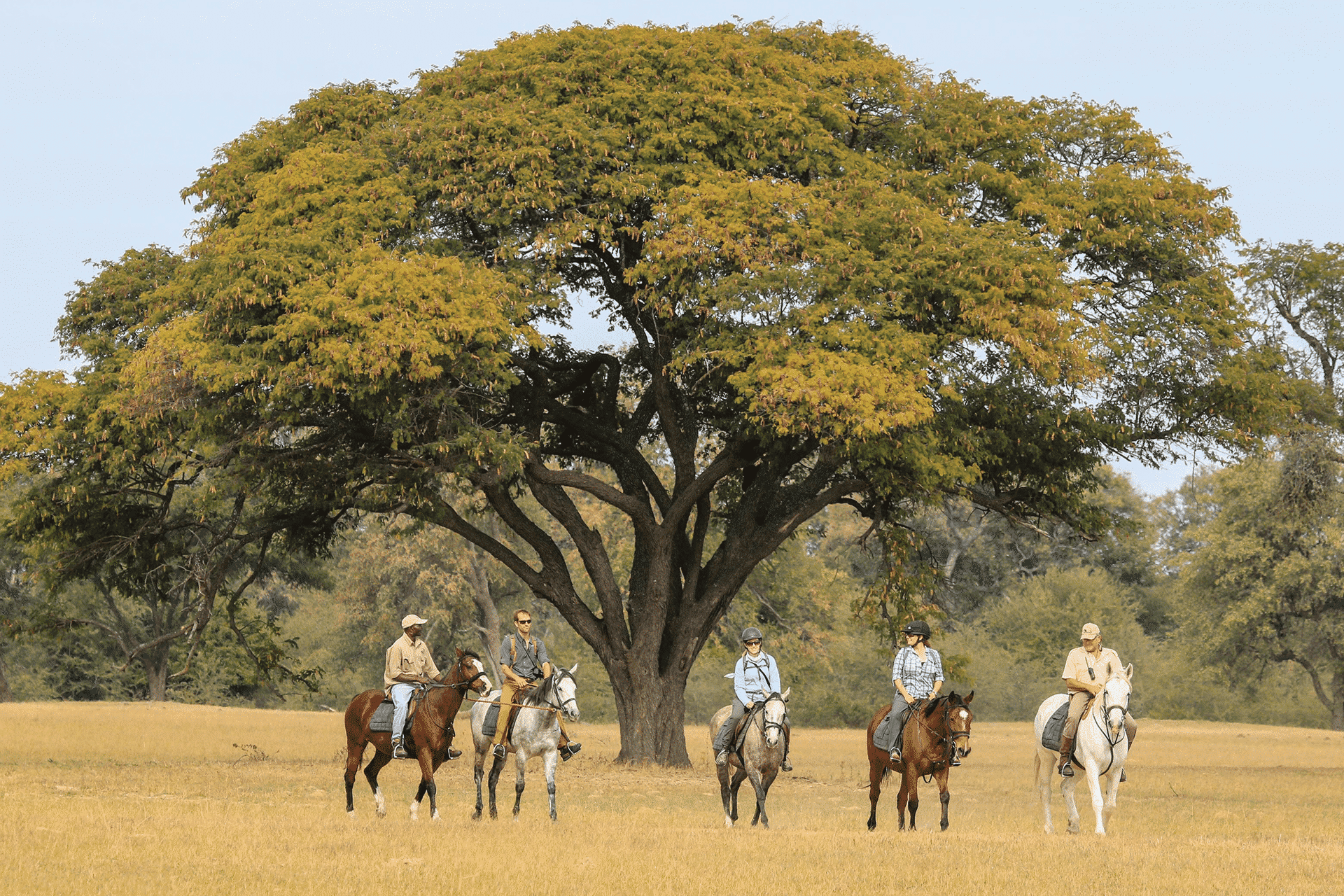 Horseback safaris in Hwange National Park, Zimbabwe
Hwange National Park is a spectacular wildlife reserve. Covering an immense 5,792 square miles, it is the largest national park in Zimbabwe. The range of wildlife species, including the Big Five and endangered African wild dog make it one of the most exciting horseback safari destinations in Africa. The park is also home to one of the world's largest elephant sanctuaries who thrive off the park's abundant availability of water. We recommend staying at Camelthorn Lodge to experience a horseback safari in Hwange National Park. 
Luxury Horseback Safari Trips
Horseback Safari Inspiration
Contact us, we are here every step of the way
See something you like? The luxury safaris showcased on our website are just a taste of what your unique African experience could look like. Tell us what you liked and we will craft a one-of-a-kind luxury safari, just for you!