Destinations
Uganda gorilla trekking safaris
Uganda is the gorilla trekking destination for the adventurous and fit. Steep climbs and beautiful
valleys reward you with incredible mountain gorilla encounters.

Currency
UGX (Ugandan Shilling)

Uganda highlights
Uganda provides you with the opportunity to tick gorilla tracking off your bucket list. Beyond Gorillas Uganda serves up a wide range of activities and attractions to ensure you experience the adventure of a lifetime. Encounter incredible wild while on safari, explore the majestic Rwenzori Mountains or cruise along Lake Victoria and experience all there is to experience in this all too rarely visited African wildlife mecca.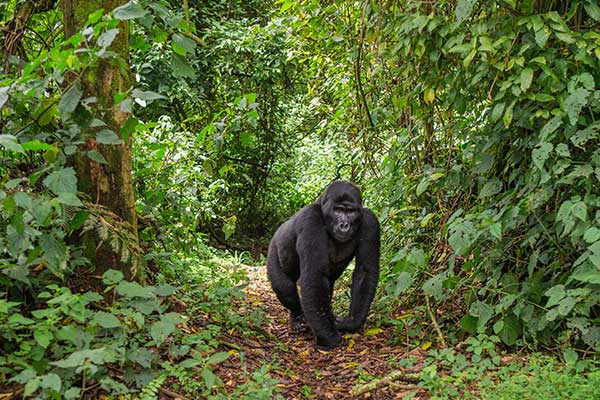 Gorilla Trekking
Uganda is the Gorilla Trekking destination for the adventurous and fit. Much of the trekking involves steep climbs and less Gorillas meaning you're going to have to work for your encounter. The reward is worth the work however as the incredible valleys of Bwindi Impenetrable Forest National Park create the perfect backdrop to your moments of encounter.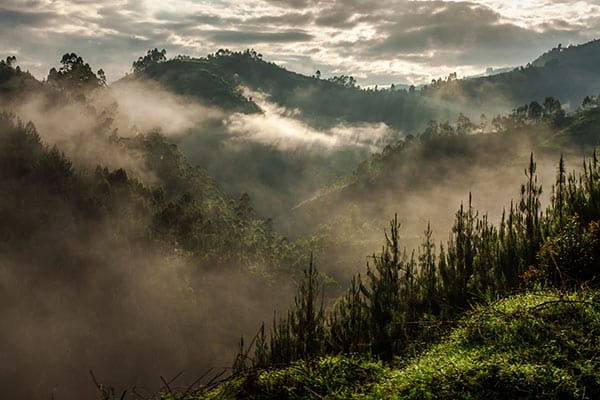 Bwindi Impenetrable National Park
Lying on the edge of the Rift Valley, this National Park is home to half of the remaining mountain gorillas on earth. The aptly named Impenetrable Park contains nearly 400 species of plants, 120 mammals and 250 species of birds. Meaning that whatever your preferred encounter, it's likely to happen in this wildlife mecca.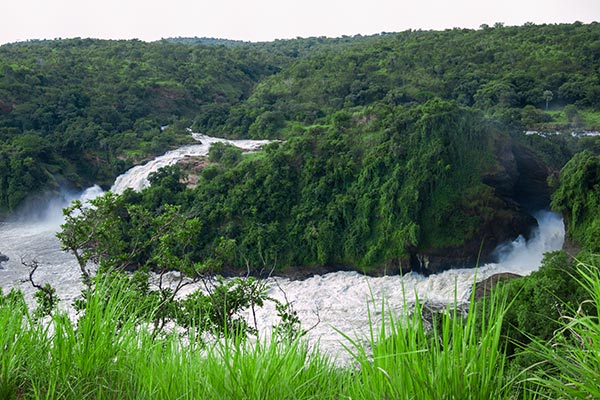 Murchison Falls National Park
Murchison Falls plays thoroughfare to a dramatic point in the Nile river's journey from the Mediterranean Sea to Lake Victoria. Murchison Falls' narrow gorge brings together the powerfully crashing water of the Nile, flanked by hippos, crocodile, buffalo, antelope and a host of predators in a wildlife experience not to be missed.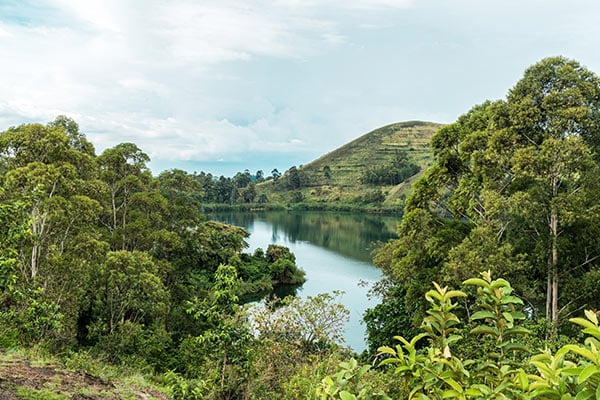 Crater Lakes of Fort Portal
Just South of Fort Portal lies one of Africa's best kept secrets – the Crater lakes. With endless footpaths and cycling routes weaving between green rolling foothills, falling into dark lakes, this is a spot you'll want to get lost in. Chance encounters with free roaming hippos add an element of thrill and suggested caution.
What type of wildlife will we see?
Uganda presents you with the unique opportunity to see a selection of primates in their natural habitat. You stand the chance to encounter chimpanzees and a variety of monkeys, but visiting a family of mountain gorillas is undoubtedly Uganda's real speciality. The parks are also home to a range of big game animals, including hippo, zebra and a number of antelope.
Best time to go to Uganda and why?
It is best to visit Uganda during the dry season between June and September as well as from December to February. This is the best time to see wildlife in the parks and provides ideal conditions for gorilla tracking. The wet season however does provide ample opportunity to have excellent gorilla trekking and wild viewing expeditions as well which makes Uganda an all year destination.
When is Uganda's high season?
High season falls between June and September. Although you will never experience crowding, it is recommended you obtain permits well in advance if you are planning on travelling at this time.
When is Uganda's low season?
Low season is from March to May and between October and November. Some of the lodges close during this period as a result of high rainfall, but scenery is spectacularly green and you stand the chance to see newborn animals whilst on safari.
When is Uganda's best weather?
Very little rainfall can be expected between January and February as well as from June to July. This provides you with perfect weather conditions for game viewing and gorilla tracking.